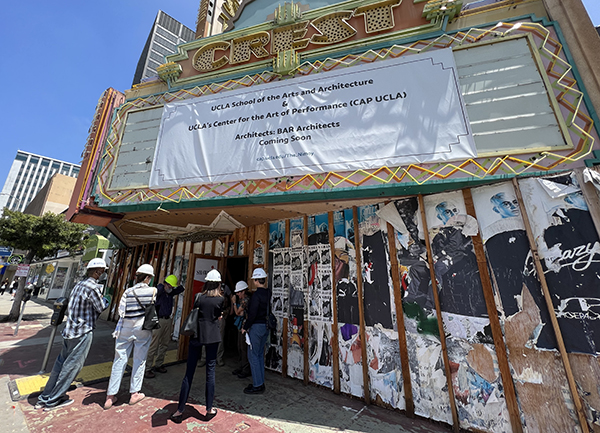 A new era for CAP UCLA is underway as we continue to make significant strides toward the development of the UCLA Nimoy Theater and its inaugural season
. Located near the UCLA campus on Westwood Boulevard, The Nimoy is a reimagining of the historic Crest Theater as a flexible, state-of-the-art performance space.
Opening in late March 2023, the intimately-scaled venue is named for artist, actor, director and philanthropist Leonard Nimoy. Shawmut Construction has been working steadily to renovate the venue, which will be equipped with new and green technologies to support the creation and presentation of innovative work.
The Nimoy will be a home for artists representing a broad diversity of voices, viewpoints, ideas and creative expressions in music, dance, theater, literary arts, digital media arts and collaborative disciplines. The inaugural season will feature a large slate of amazing shows, including new work by the legendary Kronos Quartet, "live documentarian" filmmaker Sam Green, and a collaboration between two essential musical voices of Los Angeles, Quetzal and Perla Batalla.
Artist-as-energy-worker Daniel Alexander Jones and spoken word poet J. Ivy will play special roles in developing Nimoy programs — both as singular, resonant performers and associate curators inviting emerging and established L.A.-based artists to join the CAP UCLA season.
The CAP UCLA team is constantly inspired by what this intimate and approachable venue will mean for an emerging generation of artists and their community of supporters. The Nimoy represents an investment in the future of a new generation of arts practitioners and activates a new path forward. As a fully equipped and welcoming home for creative exchange between artists and audiences, The Nimoy will be a place where communities can celebrate and discover together.
We will be updating you on the progress of The Nimoy monthly and we can't wait to welcome you to our newest home!
We are excited to return with our 2022–23 Fall/Winter program lineup, bringing new works by dynamic musicians, renowned dance artists and multi-disciplinary collaborations to UCLA's stages.
The following is available on demand, free with registration.
A selection of songs from Quetzal filmed at Royce Hall as part of The
Tune In Festival
2020.
Songs from Kronos Quartet filmed at Royce Hall as part of The
Tune In Festival
2020.
July First Thursdays
Thu, Jul 7 at 7PM
Westwood Village, Broxton Ave
First Thursdays Summer Edition is open to all and features a film screening, live entertainment, and food trucks that will transform Broxton Avenue. Grab your popcorn and enjoy an outdoor evening screening of Disney/Pixar's
Soul
. Attendees are highly encouraged to bring a lawn blanket for extra comfort. Special giveaways to the first 250 attendees!